Looking at crocheting project, just looking at them makes you want to learn how to do it, if you are like me, you like to save the page you see them on and come back to it whenever you have time.
Some projects can be very tricky or confusing, so then you forget all about it and never look back until you see it again. This has happened to me so many times, that now that I know how to crochet, I try to go back and find them and see if I am ready to attempt them.
So, if you are truly wanted to enter into this fun and amazing hobby, sit back and check out these easy to do projects, if you are a beginner! Lets begin!
Granny Square Blanket
This is the current project that I am working on for my fiance. This is perfect for beginners! If you want to just make a simple blanket, this is perfect to do! Whenever I looked at a granny square blanket, I didn't think I could make one.
If you don't know, but I am a visual learner and need everything broken down step by step. YouTube was the first place I looked to find a video that would slow it down, and I finally found one, The Nervous Knitter.
She broke the granny square steps as slow as you can go, but it was easy to understand and learn. I always watch the videos first, before trying them, so I picked up on the steps very quickly. Once you learn how to do it once, it is like riding a bike, something you can't forget.
If you want to check out her video, here is the link!
2. Scarf
Scarves will always be something that is easy to do. The only difficult thing about them is the patterns you choose. I didn't understand why my grand-grandmother makes scarfs so much, but after realizing how quit they are to make, I understood why kept making them.
3. Bookmarks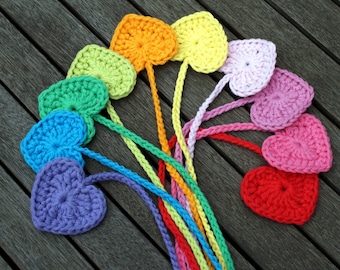 You are probably thinking to yourself, bookmarks?? Yes, almost anything you can think of, you can crochet. Now, not all bookmarks are easy and I will be posting a how-to on how to do these ones.
These ones are as simple as granny squares, plus they are cute and pretty quick to make. Why have a plain boring paper or plastic bookmark when you can have a bright and colorful one instead!
4. Beanie Hat
Just like the scarves, this is another quick and easy thing to learn how to do. So, if you are a beginner and don't have any gifts in mind for a birthday or Christmas, you can always crochet a hat and scarf.
I haven't had a chance to learn how to crochet, but really can't wait!
5. Granny Square Patchwork Blanket (Mini Granny Squares)
I know that I already have the giant granny square blanket on here, but here is the other version that your grandmother might have around her house. The difference between this blanket and the other one I mention is that this is just smaller squares you sew together.
While the other one is just a giant granny square, this one you can get creative and mess around with different colors and see what works and what doesn't.
Which one would you like to try out? Or which one should I show you how to make? Or which ones have you already made? Leave a comment down below!