As a beginner, if we ever wanted to start a project, using yarn, we would just find the color we wanted and grab it, right? Then once we get home, we find out that the knitting needles or crochet hooks, aren't for that type of yarn.
The chart that is shown above, will be your best friend while shopping for the right kind of yarn. Most of the yarn, that you can get, have one of this pictures with the yarn on it, saying the number of what kind the yarn is.
Something like this. I will tell you what size the yarn is and even recommends what size crochet hook or knitting needles you should use with this yarn. Most of them have this on their packaging, which is very helpful for everyone.
Now, let's get into detail with each one.
The picture that is shown about, shows the thickness of what each one looks like. I will be going through them all and explaining which one would be ideal for the project you are looking for.
0: Lace
This is one of the thinnest yarns that will be on this chart. If you are looking to make fashionable clothes, scarfs, hats, or hand warmers, this is what you would mostly use.
Lace yarn makes the project look more 'perfect' or it looks better in presentation. If you are a beginner, I would hold off on going right to the thinnest yarn.
1: Fingering/Super Fine
Fingering yarn, or what the chart likes to call 'Super Fine' yarn, is used for making baby socks or anything clothes wise. Or, what you can find a bunch on, shawls. I've seen a few that have actually made a table cloth, for decoration.
2:  Sport/Fine
Sport, or Fine yarn can be used to make headbands, for babies, little cute stuff animals/characters. If you are looking to make some baby booties, this might be the yarn for you as well!
3: DK/ Light
If you are looking to make some 3D objects for your projects, such as flowers, this would be the yarn you work with. If you are looking to make a baby set, or baby blanket, this yarn will be soft enough to use to make them.
4: Worsted/Medium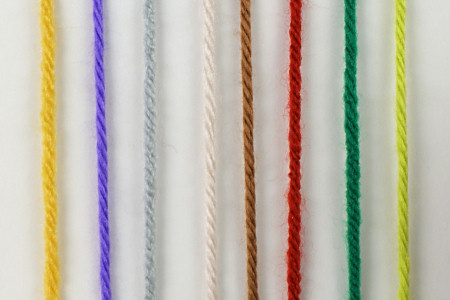 This is the typical yarn that you would get for most of your projects, the possibilities are endless with this type of yarn. If you are a beginner, this is the type of yarn that you can basically make whatever you want with it.
I've seen people make blankets, hats, gloves, scarfs, handbags, baby blankets, baby shoes, crochet flip flops, etc. I've been using this yarn to make the backing of my latch hooks and also used my loom knit with is as well.
5: Chunky/Bulky
If you are looking to make some stuff for the winter time, then you would use this. The type of yarn is thick to make great blankets with, or have a hat, scarf, and mittens for yourself. Although, you might need bigger crochet hooks and knitting needles for these projects.
My son and daughter's blankets, I used this type of yarn, of course, they didn't come out perfect, for my first time, but they loved them both!
6: Super Bulky
With this type of yarn, you can Arm Knit with this type of yarn, which I have always wanted to try, but with the price of Super Bulky yarn being very pricey, it's something that will have to wait for me.
You can even finger crochet with this as well, or just make a nice big pillow to go on your couch.
With all of these yarns, the projects are endless. The best part of buying yarn, is that each one comes with a pattern, so if you have been throwing them away, you have been missing out.
Next Tuesday, I WILL have a tutorial on how to make a bookmark, crocheting. I just forgot about it and haven't had a chance to get into it, due to I am working on a blanket for my fiance, which I will blog about when I am finished! Happy Crafting Dearies!