When you here the game Sims, what comes to mind? I think about The Sims games, creating a character and controlling their life. A lot of people forget that the Sims first originated from SimCity, where you created a city and made sure that it was successful.
I'm not going to talk about SimCity, though. This is mainly about The Sims. I'll be honest, I've never actually played the Sims, but for it's time, it was amazing. To be able to control their life, made them do whatever our hearts wanted them to do.
It was like GTA, but without the violence and free will to move your Sim manual. You could even create your dream house, have a family, or get the job of your dreams. When I got hooked, it wasn't with the first The Sims, it was The Sims 2.
The Sims 2
The first time I saw The Sims 2, was when I was on YouTube. I had came across it and it was recommend to me. A lot of people actually used The Sims 2 game, to create movies or series, or what got me hooked on, was the teen pregnancy series.
You must think that I'm weird to like to watch them, but seriously, look up the series 'My Life'. The creator of that series, she really got me to thinking that I wanted to do something creative like that. If you actually watch her series, from her very first episode, to her newer ones, she has come a long way.
The Sims 2 had more to offer, as well. There were more add-on's to the game, such as the different seasons, hobbies, and even jobs. It made the game play more like real life.
I finally had a chance to buy it for myself, and I am currently, trying to learn how to film and make a good series, that I will post on my YouTube channel.
Even if you aren't trying to make a series, its a great way to past the time on a rainy day. Hell, I even when forward and created my fiance, son, daughter, and myself into the game. I highly recommend getting this game! It's the best of both worlds.
Now, let's talk about its, aftermath…The Sims 3.
The Sims 3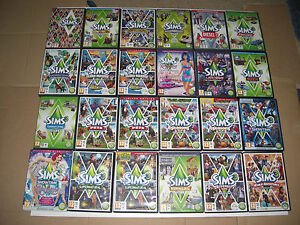 I'm going to try my best not to bash this game. It wasn't a bad sequel to The Sims 3. They added a lot of new things, such as making it easier to custom clothes and items, you didn't have to wait for loading times to get from one place to another, and you could follow your Sim to work, the hospital, etc.
There was one BIG issue with this game. It is SO buggy. If you didn't have the best computer in the world, you were bugging because your game would lag. Brand new or with mods, it would lag, or the loading time would take forever. Especially if you are in create-a-sim.
To me, the creators wanted to get this game out, as soon as possible because of the high demand that The Sims 2 was, so they did rush it, a little, by adding some stuff that the other games never had.
The one thing that I LOVED about it, was that you could follow your Sim anywhere without having to deal with those loading screens and the way you could custom, almost everything.
The Sims 3 was the first Sims game that I have ever own and I had the season, pets, and supernatural packs that made the game play so much fun! I wonder, now that I have a better computer, if it would run better?
Last, but not least, let's get to the newer Sims game that came out in the last few years, The Sims 4.
The Sims 4
Again, this is another game I haven't touched, yet, and I have looked into seeing if it is really worth getting, but to me, the creators went back a couple steps. You think with a newer game, it would be better and would fix the problems from the last game, well, they did, but not very well.
I have heard that the game play is okay, graphics are okay, etc. It is missing A LOT from The Sims 3 game. You have loading screens for EVERYWHERE you go, even if you are going to the next door neighbor.
It's not as buggy or laggy, as The Sims 3 was, but they had to get rid of a lot of stuff, in order to fix it, which a lot of people were disappointed in. The Sims 4, seems to me, boring. Just because they didn't add anything new that would make us get excited.
Although, they did add a pack that basically makes you do your Sims job. Which was something that we could do in the other games, but I would rather just fast-forward my Sim's job, then doing it, I'm already controlling pretty much them, why should I have to do their work for them?
Which is worth playing?
The Sims 2, hands down. I would recommend it to everyone. It plays great on Windows 10, there is a few glitches, but it's still playable. I like how the Sims are in this game and how you can do so much.
Plus, it still has that SimCity feeling to it, so that I could make my own town, I could. I am hoping to get a few more packs, just to play around with it some more. I do have the the Late Night and University packs, so I am hoping to either get Pets or Seasons next.
If you are a Sims fan, which game do you prefer? Leave a comment down below! There has also been a rumor that they are working on The Sims 5, do you thinks they should have another Sims? If so, what do you think they need to improve or leave alone?