I was a beginner to crocheting, in the beginning of the year, but I got hooked into it the moment I first learned how to crochet. I thought it was going to be very difficult to pick up, unlike knitting, which my grandmother taught me to do.
If you are interested in learning how to crochet, please keep reading! There were a lot to learn and a lot of different terms. I do consider myself still a 'beginner', but I do know most of the stitches and terms, which I have learned over time.
First thing is first, if you are a true beginner, I suggest getting a set of crochet hooks. The first set I ever bought was on Wish, but if you don't want to wait weeks on end for stuff, you can find a set on Amazon for about $10-$15. Some sets will even come with markers, tape measures, plastic needles, scissors, and some other stuff as well!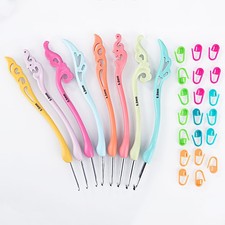 If you don't have the extra money to buy a set, you can always go to your local craft store or Walmart, and get the following:
Crochet Hook

Start with a 5.0mm hook. Most projects require this size and it is also the size I am going to use to show you each stitch.

Yarn Size 4 (Medium)

If you are unsure what size the yarn is, you can always check on the back of the yarn label, and it will tell you what size it is. It also tells you what hook it 'recommends' to use, but most crocheting projects use this type of yarn.

Markers

Markers aren't really needed, but are very helpful for marking when your stitches begin and end.
You don't necessary need the actually crocheting stitch markers, you can use a paper clip, bobby pin, or anything that is small enough for you to use for crocheting. You can check out the picture and see what I mean.

Sewing Needle

You will always need a sewing needle for every project you do. When a project is finished, you use them to sew in the 'unwanted' strands from the beginning, middle and end of your project.
Doesn't matter what size you use for a yarn needle, a basic size works for most projects and you can also find a pack of needles that has different sizes on Amazon or your local craft store.

Scissors

You will also always need scissors, for all your projects, to cut off any loose ends. I suggest getting embroidery scissors because they are small and easy to travel with.
Normal pair of scissors works fine as well.
Now that you have an idea of what you are going to need, let's talk about some stitch and abbreviation terms, before starting to crochet. I have created a mini 'cheat sheet', for you beginners, which will also be posted on all of my social medias. If you were to look at the entire list of crochet abbreviations, your head might spin, so that is why I'm breaking it down for the new comers.
The reason why we use 'abbreviations' for crocheting, is that some of the terms, that are used, are very long and it would make the pattern, we are reading, very difficult to understand. Most crochet books have a page or two, on what the abbreviations mean and how to do that particular type of stitch.
There are other terms that aren't listed in crochet books. If you join a crochet group on Facebook, some of them, in the group, will use different terms that aren't really in the crochet books, or the ones that I have.
Here are a list of 'slang' crochet terms, that some people might use, that aren't necessary in the crochet books:
Ami – Short for Amingurumi.

Amingurumi are the stuffed animals that you can crochet and make, they just aren't called 'stuffed animals'.

BiStitchtual – Someone who crochets and knits.

I've never heard this term before, I don't think anyone has really used this term, but then again, I haven't come across someone saying it or calling themselves it.

C2C – Corner to Corner.

C2C are blankets that you make, using a grid or graph.

CAL – Crochet Along,
De-stash – Selling or giving away yarn you stash.

Most people who do this are ones that might have a lot of yarn just sitting around. Since some brands of yarn are very pricey, you might get them cheaper from someone else who isn't using them.

FO – Finished object.
FOTH – Fresh off the hook.
Freehand – Making a project without following a pattern.

Lots of experience people make these, while writing the pattern as they go. When you become more advance, this is something a lot of people do to make money from crocheting, by selling their patterns.

Frogging – Ripping out rows or rounds of crochet (Ribbit, Ribbit)

I have done this so many times. Especially if I find I missed a stitch or it doesn't look 'neat' and 'pretty'. You'll be doing it too!

HOTH – Hot off the hook.
Hooker – A proud and happy crocheter.
HSPY – Haven't started project yet.
ISO – In search of.

If you are in search of a pattern, particular yarn brand, stitch, or any supplies that have to do with crocheting, most groups on Facebook, can be helpful to help you find what you are looking for.

JOTH – Just off the hook.
LYS – Local or little yarn store.
MAM – Mile a minute afghan.
MGBTC – Must get back to crocheting.
OCD – Obsessive crocheting disorder.

Once you get the hang of it, you'll want to keep going and try different patterns and projects.

PABLE – Pattern accumulation beyond life expectancy.
PHD – Projects half done.
PIGS – Projects in grocery sacks.
PTP – Permission to post.

Some use these word for posting on social media or sharing it on their personal social media, or blogging sites.
This is VERY important to know because if you buy a pattern, most creators do NOT want you to post it on another website or share it with anyone, unless they bought it.

SABLE – Stash accumulation beyond life expectancy.
STASH – Special treasures all secretly hidden meant to be discovered unexpectedly.
TALC – Take along crochet.
TIA – Thank you in advance.
TOAD – Trashed object abandoned in disgust.
UFO – Unfinished object.
USO – Unstarted object.
Yarn Cakes – The small skeins of yarn that result from using a yarn winder.
WIM – Work in mind.
WIP – Work in progress.

A lot of crocheters will use this term.

WIVSP – Work in very slow progress.
YAP – Yet another project.
Yarn Barf – The tangled mess of yarn from the center of a skein.

This happens to me, because I usually use the center string for when I crochet. I love using it because I know have to unravel yarn, but it can be a pain in the ass to unravel, when you use the middle string.

Yarn Bomb – A decorative piece of crocheted or knitted art that is strung up in a public place.
YART – Yarn acquisition road trip.
Make sure to follow my blog for more beginner posts on crocheting! I will be breaking down everything in little parts and I will also have videos for you to view, if you find it easier to understand and learn!
I also go live on my Facebook page on Tuesdays! Check it out and don't forget to like it, so you can stay in the loop for whenever I post a blog post or go live!
https://www.facebook.com/katiesblog96971617/