Happy Tuesday! I have another Crafty Sassy coming to you! I am going to talk about the difference between Crocheting versus Knitting and how they are different from each other. Let's jump right in!
So, the major difference between the two is that you don't use the same tools. For crocheting, you use a hook and for knitting, you use long needles. The better thing about crocheting is that you can see more progress than you can knitting, depending on what you are knitting.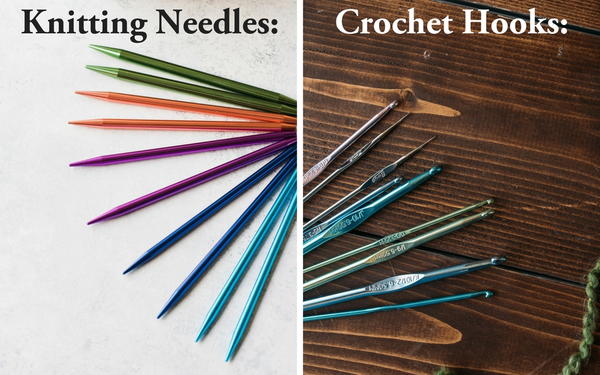 Crochet
Now, I'm not an pro at crocheting, but I have managed to crochet a granny square and I am working on a granny square blanket for my fiance. To me, at first, crocheting looked very difficult. Even when I tried to practice a single crochet square, I always seemed to mess up, somehow.
After trying for a while, I gave up. More so, I took a long break and headed to YouTube. I am one of those people that can't just read the book and look at pictures to do something, I have to physically see them doing, what I am trying to learn.
I figured I would start simple and look for a video to make a granny square. I found the best tutorial by the Nervous Knitter. Link for the video – https://www.youtube.com/watch?v=vDdXrZB1FOE
Since crocheting can be very fast, she slowed it down every step and it was much easier to follow. I watched the entire thing, twice, just to make sure I did it right and know, I know it almost by heart.
With crocheting, once you get the pattern down, it's like riding a bike, you don't forget it very easily. Crocheting, you can do so much, the best part is that you can see your progress, so working on a granny square blanket, I see the progress, which makes me excited to keep on going!
Once I am finished on my fiances blanket, I will post a picture on here and show you how to do a granny square tutorial, as well!
Knitting
Knitting was the first thing that I ever did, or tried out. I knitted my son's first blanket. It was very simple to do and, at that time, I preferred to knit versus crochet. The only problem with knitting, it felt like my project was never going to be finished.
Don't get me wrong, knitting was very basic and was easier to start out, but once your project gets bigger, you don't have very much, to me, encouragement to keep going. Plus, I also seemed to lose a stitch or two and my project would come out all uneven, and with me trying to make things perfect, I would restart multiple times.
But there is also another way to knit, without using the needles. You can loom knit as well. I just got a giant set of different looming sizes and shapes. (Next Tuesday, I will be going a tutorial on how to loom knit a scarf!)
Knitting was something that I did for my latch hook pillows, the backings of them. I knitted them like I was making a blanket, but the needles can only hold on so much, unless you have the needles with the wires, which I don't currently have.
Although, knitting was a easier way to have my projects looking a little neater, not perfectly neat, but neat as a way, there was not unwanted holes, just a solid pattern. Knitting, to me, is more for making a really great scarf or, if you have the knitting needles with the wire, a hat or even a blanket.
Which one would be better for beginners?
I would trying out knitting first, just because the concept is more simple and easier to follow versus crocheting. Try something simple, such as knitting a scarf or a square, just to get some practice.
Once you feel like you know the basics for knitting a simple scarf, try challenging yourself and try to crochet a granny square. If you are like me and need to physical see what is going on, I am going to try my best and make little tutorial videos to help you guys out.
If you get really frustrated with any of it, take a break. Taking a break from your work is okay to do! Especially, if you have children and they are making it difficult to work on anything. Your work will still be there when you want to go back to it.
Another tip that really helped me out, before jumping in on crocheting or knitting, or any project, take a step back and just watch videos of people doing those things. Watch how they do their work and whatever tips or things they do, that you feel or know that would help you out, use them!
Watching other people crochet and knit, I'll pick up the little things that they do, so that I can used to my advantage or help better myself into crocheting or knitting different things.
Also, if you aren't sure what kind of knitting needles or hooks you should get, try some out. I prefer metal ones, just because it's easier, although, I haven't tried out the wooden or ones with handles. I literally, just bought a set off of wish and have stuck with them ever since, although, because they don't have a handle, my hands can get sweaty and it makes it harder to work the yarn.
I do recommend trying them out and seeing with ones you think, for yourself, make it easier to crochet or knit.
One thing that I highly recommend, is to work with bigger yarn! I know a lot of people say not to because it will make it harder to work with the less thicker yarn, but it will let you be able to look, up closely, how it is done. So that if you feel you made a mistake, with the less thicker yarn, with the bigger yarn, you will be able to see clearly what you did to mess up.
So, next Tuesday, I will be doing a step-by-step on how to loom knit and simple figure 8 scarf.