If you have no idea what 'Shrek' is, then I highly recommend you check it out the entire series. Growing up, the Shrek series was something that we watched, almost on a daily, but in the last movie, of the saga, I noticed something.
So, if you haven't watched all the movies, I'm going to break down the first 3 real quick:
Shrek: In the first Shrek, we meet Shrek and how he is an ogre who lives alone in his swamp, but that is taken from him when the outlawed fairy tale creatures decide that they are going to stay on Shrek's land. So, Shrek goes to the person who banned them onto his swamp, when arriving to Lord Farrquad castle, Farrquad sets him on a quest to rescue Princess Fiona, so that Lord Farrquad can marry her and become king. Long story short, Fiona and Shrek start to fall in love and Shrek finds out about her curse and how after sunset, she turns into an ogre.

Shrek fell in love with Fiona, regardless of who the were on the outside. Mortal of this story is that your true love can be in anyone.

Shrek 2: We see Fiona and Shrek go off and enjoy their honeymoon, at the end of the last movie, they got married. When the real Prince Charming comes to save her, he finds out that she has already been saved and that she just got married. Shrek and Fiona get invited to Far Far Away for Fiona's father to give his blessing on the marriage. Shrek and the King don't get along very well because Prince Charming was suppose to rescue Fiona. The King follows the orders of the Fairy Godmother and tries to get rid of Shrek, by hiring an hit man, Puss n Boots. Shrek then steals a potion, thinking that Fiona would better off by being human and together, they both transform into a human. Charming tries to 'pretend' to be Shrek. At the end, the King saves Shrek's life and gives his blessing.

Shrek didn't have a very good relationship with his father-in-law, but because the King and Queen assumed that it would be Prince Charming instead. The real mortal of the story is that Shrek transformed into an human to make Fiona happy, but when he realizes that she loved him for him and that deep down, Fiona embraced being an ogre.

Shrek The Third: In this one, Shrek and Fiona are going all the royal duties because the King has been sick. Shrek realizes that he would rather be back home in his swamp. On the Kings deathbed, he tells Shrek of the last air for the throne, giving Shrek and Fiona another option if they just wanted to live their lives back at the swamp. Shrek, Donkey, and Puss leave Far Far Away to go get Arthur, the next air. Fiona tells him that she is pregnant. Shrek has nightmares about being a father because his father wasn't really in the picture much. Shrek basically practices on Arthur on how to become a father and saves Arthur's life when Charming over rules the kingdom. Charming puts on a play where he wants to kill Shrek in front of everyone, but Arthur saves Shrek's life and takes his role to be King, while Shrek and Fiona go home with 3 new babies.

I think the mortal of the story was more for those who think they are going to be terrible parents when they find out that their spouse is pregnant. Sometimes they think that having kids would ruin their life, but Shrek learned that they make life better.
Now, that you kinda have a background on what each movie is about, we are finally, going to talk about the last movie from the Shrek Saga, Shrek Forever After.
As an adult, when you have kids, you tend to watch a lot of movies that you used to watch when you were a kid. The Shrek Series was something we watched all the time. My daughter loves anything animated and she doesn't mind to watch them with me.
Well, when we finally got to the last current Shrek movie, I noticed something that I wouldn't have noticed when I was a kid. Shrek embraces the parenting life, but when he realizes that he can't always have some peace and quiet, and that things would go back to the way they were.
Shrek feels that he his living in a boring life that seems it would never end, but he has enough, at his kids birthday party. When him and Fiona go outside to talk about, he tells Fiona how he wished he could have his swamp life back. Rumpelstiltskin overhears and offers Shrek a "Ogre For A Day", meaning Shrek would be able to live a day as an ogre, but he would have to give a day to get a day.
Shrek tells Rumple that he can have any day from his childhood, Rumple takes the day he was born as payment. Shrek enjoys his time as an ogre, but he finds a poster with the Fiona's face wanted, he looks to find her, but gets captures by Rumple and finds out that after his day is up, he'll be gone, unless he has true loves first kiss.
Shrek finds Fiona and finds out that she recused herself from the tower. Shrek tries everything to have Fiona fall in love with him, all over again. Before his day is up, Fiona kisses him, and realized that he was her true love because he broke her curse.
When Shrek gets back, he realizes how happy he was with his little family and that there was nothing he wouldn't change about it.
You see, when you have kids, you thing that its going to be so easy and that you will still be able to do whatever you want, but once they are here, you might feel overwhelmed or wished you would have waited to have them.
I felt that way, but when I let my daughter spend the night with her grandmother, I missed her like crazy, even if I spent the time alone with my fiance, we both missed her like crazy.
Sometimes, having kids brings people closer together, other times, they can bring people to stay away or not want to be apart of it.
Having kids doesn't ruin your life, it does change it. Some people, its the end of the world, but for me, they are a product of my fiance and I's love for each other that we get to show the world.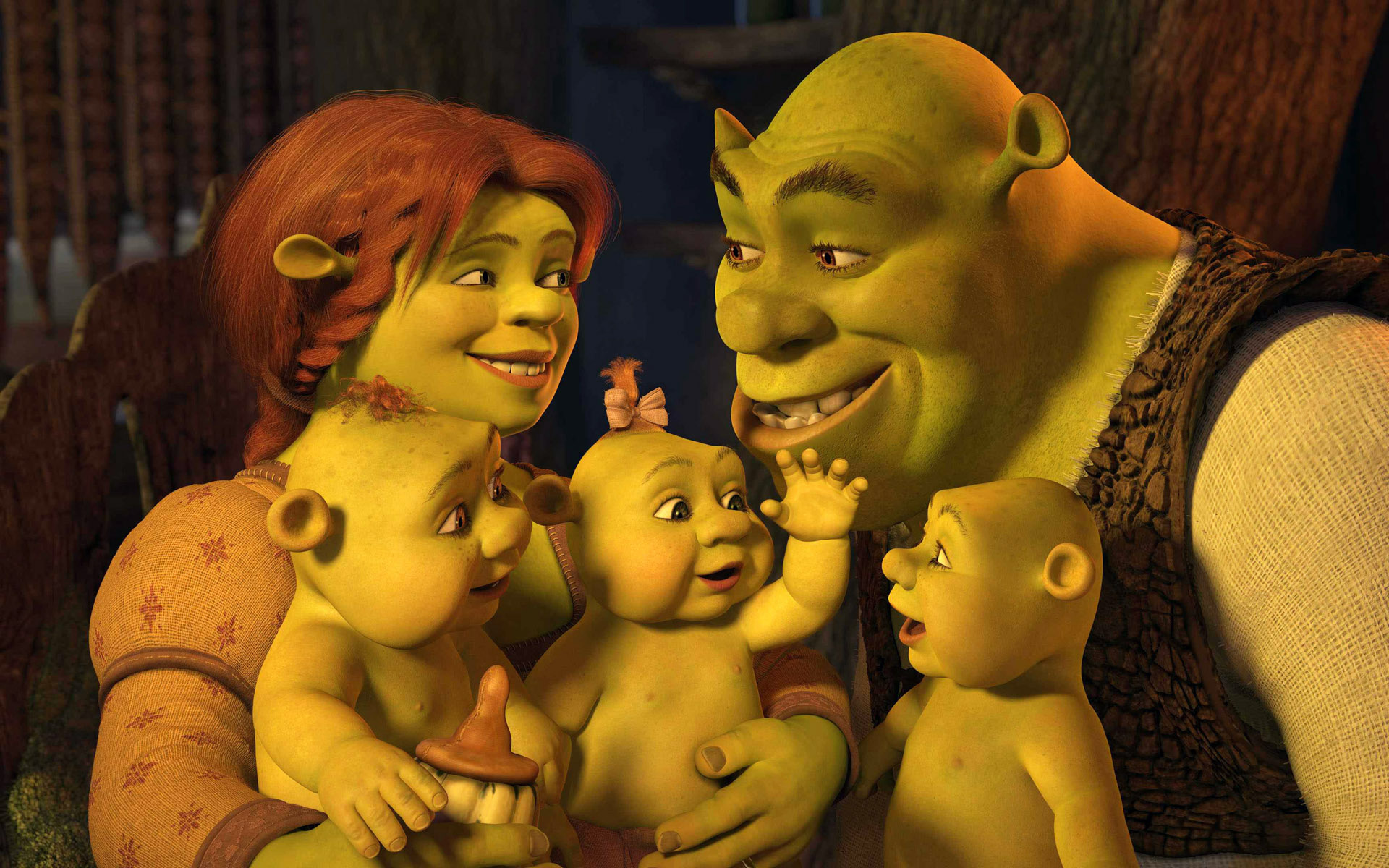 There is nothing in this world I would rather have than my wonderfully unperfect, little family. Just like Shrek found out, even though he found out the hard way, but he found that his little family was worth fighting for.