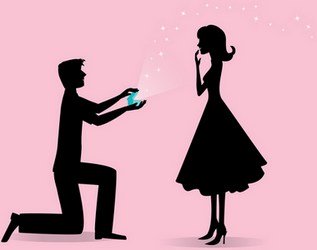 Being or become engaged to your significant other is a huge step in any relationship. It's a promise that you are going to one day,  going to marry the person that you plan on spending the rest of your life with.
I am currently engaged. My fiance proposed to me last year on Christmas Day. We have been together for almost 4 years. We have been through a lot during those years. Losing our son bought us closer than ever before. I've never been more happier in my life.
Anyway, the reason why I wanted to bring up the topic of engagement, was that I wanted to talk to you about was how long should you be engaged for.
As soon as we got engaged, I started thinking of a date, which we planned on getting married in 2020. Ever since then, I have been thinking of colors, themes, what my dress will be, who will be my bride maids, etc. I've always wanted to get married to the love of my life, so when he finally popped the question, I have been so excited to plan our wedding.
When some people get engaged, they might wait a year or two, maybe to save up for the wedding or waiting until they are able to take the time off, anything, but if you have been engaged for more than 5 years, people can start to question why.
I completely understand if you are trying to save up money on a wedding, don't get me wrong, but weddings are very expensive, but when people started to ask why, I think of many this person isn't ready to make that commitment or they don't want to make the plans of a wedding.
There could be so many reasons why. Some people get engaged or plan on getting married for the kids, which you shouldn't do, you should marry because you love the person you are with.
I grew up in a home with my mother was always unhappy because she was married to my father. It took her 11 years to finally stand up and want to find happiness. My parents got divorced and my mother has been so much more joyful, that was almost 7 years ago. My mother felt that she had to stay because of the fact that she wanted to keep our family together.
She didn't want us kids to grow up in a broken home, but she knew that she didn't want us to grow up with parents who were happy, too. So she made a change. My mother married my father because, yes she was in love with him, but they also had me too. She married and stayed with my father because of us kids.
If you aren't ready to take that next step to get married, then you should talk to your love one and talk about why you don't want to get married. For me, I only want to get married once and I think a lot of people only want to get married once.
A lot of people are pressured into married their significant other because of family or friends. You shouldn't marry anyone you know that you don't want to spend the rest of your life with. It should be because you are madly in love with your significant other, you love all their flaws and looks, but most of all, you see a future with them.